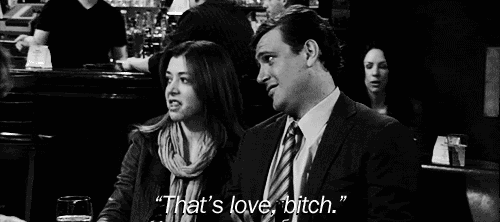 Three years is a long time. But if we're to look at it like Penguins who mate for life, three years ain't nothing. By now the crazy stupid love from last year has made way for the 'ah, nice to have you around', overall pleasant feeling. You're taking each other for granted now, and that is a surprisingly happy feeling in Love 3.0.
You are now responsible for a living thing:


If you haven't had a baby yet, chances are, you have a dog. Kiss your carefree days goodbye because now you are responsible for a life. All your eating, sleeping, socializing decisions revolve around something that eats when it wants to, sleeps where he wants to and pees on your bed. In this year, you have probably cleaned some form of poo. There's no going back from that



She: "Did you leave food for Dexter?"


He: "I thought

you

did."



You prefer movie nights at home which involve minimal touching:


Getting intimate with a bag of chips is a lot more enticing than … you can guess the rest. Going out is great occasionally, but by year three, you openly confess to your love for your bed, a trashy reality show or a movie and a silent companion who minds his own business. What fun!



She & He: "Get your own popcorn!"
You try new things to please each other:
You may have been married awhile but that doesn't mean you don't care. You do things you wouldn't have dreamt of doing – only for the happiness of your beloved.



She: "I made karela for you! Yaaaaay!"

You are constantly competing for attention:
Once the centre of each other's universe, you may have been displaced if only a little. You will find yourself competing with work, sleep, food, friends, the dog.



She: *Trips over Dexter's tail and falls*




He: "Is Dexter okay?"

You help each other tick things off your bucket lists:
If you're not living your dream yet, you're definitely helping each other fulfill them. You now think it's great if he's chasing his dreams, even if you miss being the one chased, and it's actually kind of cool that you're both doing your own thing but are together in that too!



He: "I want a bike."




She: *Sigh*


He: "What?"


She: "That's great!"

Beta, good news kab de rahe ho?:
The world is waiting for you to have babies. All kinds of relatives think it's the perfect time, but by now you have mastered the art of saying "mind your own business" in the most diplomatic way.



She: "I've got good news for you – I got promoted! Laddoo?"

You have no idea what your single friends are talking about:


When single friends seek you out for relationship advice, you feel like really, really, really old. You have no answer for most of their questions – you really don't remember how you ever made 'your relationship work'. #LifeGoals totally trump #RelationshipGoals and you salute your single friends for their bravery in this mad, mad world. You have no idea how you would have survived.



She: "Why doesn't he love me? What's wrong with me? Should I try Tinder?"


Me: "Hmmm … Tinder won't solve your problems." (Neither will I.)

You have started thinking about your future, finally:


However boring it may sound, but by year three, you have started thinking about your future together. You have joint accounts, expense sheets, financial goals. You hear yourself saying the word 'plan' a lot. You have lists for: things to buy for the house, groceries, gifts on festivals etc. etc. Those impromptu holidays may well be a thing of the past and now every day is a lot more planned and calculated. Hello, routine!



She: "I want to travel the world … wait is that what our savings look like?"
You have successfully morphed into one entity:


A lot of things don't have to be said. No outward elbowing at the dinner table required. You catch each others eye and that's enough. You may have finally decoded each other's moods which is quite useful in family gatherings.





10. You have done this in a public place:
After three years you have finally fought in a public place and not cared. You may have even gone from rage to love in a matter of minutes. The curious eyeballs haven't bothered you – this is absolutely normal, right? Right?